Omnichannel customer communication
Facilitating all volumes of multi-channel mail management
With out multi-channel platform: put together, process and distribute your mail.
No matter the volume or the distribution channels, our platform adapts to your communication needs.
Your multi-channel challenges
The arrival of omnichannels in our daily lives requires better customer communication management and taking into account all types of distribution channels:
Post
SMS
Mail
Electronic registered letters
(…)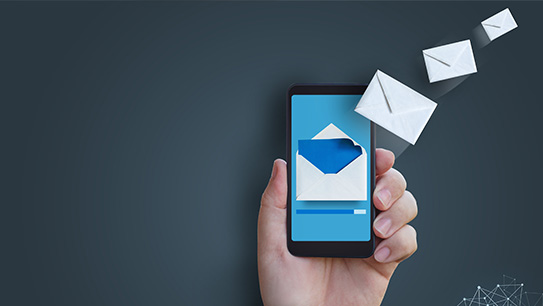 Docaposte supports you day-to-day whatever your modes of communication (digital and/or paper) and your targets with a mix of traditional and digital, while simplifying outgoing document management for your employees.
An offer adapted to your needs
Desktop publishing, mail management, industrial solutions and trust services: solutions for each organisation.
CCM software suite

Docaposte's CCM suite allows you to design and manage all your company's customer communication via traditional and digital distribution channels. The SEFAS Harmonie Communication suite covers all types of desktop publishing needs (dynamic compositions, reengineering, post-composition, orchestration) as well as digital communication needs (email, landing page, web communication documents).

DESIGNER: create omnichannel models and templates from the same media
eACCESS: give more autonomy to business users to personalise customer communication
HUBMAIL: transform and industrialize individual correspondance management
PRODUCER: supervision and traceability of all your outgoing communications
CONDUCTOR: orchestrate omnichannel customer journeys in real time

A SaaS platform for SMEs

We also offer a mailing platform (simple or registered online mail, emails, SMS or fax) for SMEs. A simple solution to send your documents (mail, invoices, reminders, payslips…), manage and search archives, track quotations, sign your contracts quickly...

Trust us with your postal mail: via the Maileva platform, we print, enveloppe, stamp and post with La Poste
Benefit from a scalable and easy-to-use emailing solution.
Design your emails autonomously or use existing templates Take advantage of a simple SMS sending solution, fast and easy to use. In a few clicks, your contacts will receive your message on their phone.

A SaaS platform for industrial volumes

This aggregation platform combines our industrial solutions and services and trusted digital solutions. It gathers all of our know-how: electronic registered mail, electronic signatures, digital archives, multi-channel sending (SMS, email...) whilst respecting market norms and regulations.

Multi-channel workflow management
Optimizing postal mail and stamping
Centralized reporting
Easy access to archives
Single bilingual interface (FR/EN)
Centralized administration: daily operations + unique cross-functional support
Single invoice with a detailed annex
Reliable and proven technologies
Docaposte offers a range of solutions, tools and services for the publication, distribution and storage of documents.
Docaposte is eIDAS-qualified for its entire range of Digital Trust services

Keep your digital documents safe and secure and guarantee their legal value over time

Analyze your target area, prevent risks, secure your critical data, and restore it with serenity