Insurance
Regulatory compliance, steamlining the customer experience, and automating business processes are core challenges for the insurance sector's digital transformation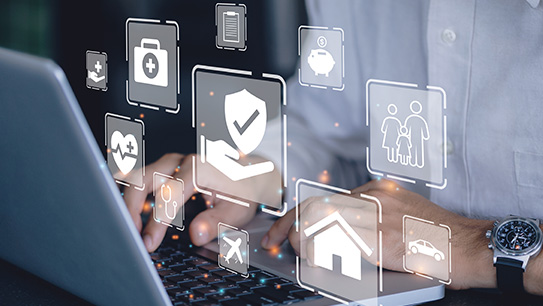 A change driven by insurers
The insurance market is becoming increasingly volatile according to new needs from more savvy customers oriented towards usage-based insurance.
Customers want a streamlined and omnichannel experience, and expect increased simplicity and immediacy in the relationship with their insurer. This means digitalizing client relations and reinforcing digital trust and data processing.
Transformation for increased competitiveness
Regulation is getting heavier and is increasing pressure on profitability, as it is increasing market pressure on historical players. Digitalization and automation of business and compliance processes has become vital to ensure insurers' competitiveness.
Docaposte sees itself as the right local partner for their transformation. Our conviction is that transformation in the sector should combine 3 factors:
Human expertise
Digital technology
Trust
Consulting and IT services
We support you in your compliance projects, the evolution of your organization or the digitalization of your front to back processes to address business challenges and to respond to the expectations of your customers.
Consulting and business expertise, regulatory, sector-specific and digital
Business / Systems Analysis, Development
Project Management and functional and technical resources
Digitalizing Customer Relations
We support digitalizing client relations by offering secure components into your pathways and digital service platforms:
Software companies
Platform designer and operater
Outsourcing
We provide competitive, proven, and robust management solutions, ensuring cost management and high service quality thanks to the combination of digital and business expertise:
Back-Office document logistics
Back-office functions
Regulatory compliance
Transform regulatory changes into competitive advantages:
KYC
Estate administration and unclaimed assets
Digital TTP, insurance transformation partner
Consulting and Support

Trust solutions

Design and management of platforms

Delegation of business and compliance management
Insurance in a few figures
More than 200

700

70 million